If you've recently picked up a record player, you're totally spoilt for options when looking for where to buy vinyl records in Australia. While there are dozens of crate digging hubs scattered across the country, which have had vinyl junkies hooked up with fresh wax for decades, the Internet also offers a whole bunch of awesome sites to find niche artists, rare pressings, and bargains on just about any genre you can imagine.
With so many quality options for record digging down under, it can be confusing for first time buyers looking to get into collecting vinyl, and finding a place to start can be one of the hardest tasks. To help you on your merry way, we've put together a list of where to buy vinyl records in Australia. It covers some of the best online stores and record shops across the country's major cities.
Online vs in store – what do I need to look out for?
With such a huge mix of brand new and second hand discs available for purchase, it's important to know what to look out for when you're buying records both in store and over the Internet. The condition of a record plays a huge aspect towards how it sounds when you're playing it, as well as its longevity and possible resale value. Most stores will have some form of grading system to judge the condition of a record, based on cosmetic wear and tear, age, physical issues and financial value. The reliability of these grading systems may help you decide where to buy vinyl records in the future. For example, you could spend anywhere between $10 and $10,000 for a copy of The Beatles 'Sgt. Peppers Lonely Hearts Club Band.' It's definitely worthwhile considering the condition of a record before you buy it, as well as reading the fine print to make sure it's exactly what you're after.
"the internet can be one of the best platforms for buying vinyl records"
Where to buy vinyl records ONLINE
While it's super important to support local and independent record stores, sometimes, the internet can be one of the best platforms for buying vinyl records in Australia. It can be especially good for snagging your second hand records. So wondering where to buy vinyl records online? Websites like Discogs are the perfect place for any vinyl enthusiast to catalogue, sell, and research records, and Gumtree and Facebook can be a good place to find bulk lots of LPs or highly prized limited pressings for sale in your area. However, if you're chasing new records, you'll want to buy them from a dedicated online record store – here's a couple we'd recommend to get you started.
Touch Records – www.touchrecords.com.au
With a huge array of new and second hand releases to choose from, this independent family run business is a no-brainer for first time buyers, and are more than willing to order in hard to find records for customers at no extra cost.
Vinyl Destination – www.vinyldestination.com.au
Based out of Melbourne, Vinyl Destination specialises on retailing directly to the public at a discounted price – you're likely to find most of the stock on their website is on special, which is a huge relief on your pocket. There's also over 35,000 records to choose from, one of the biggest collections of vinyl records in Australia, so you're absolutely spoiled for choice across a huge range of genres.
Goodwax Records – www.goodwax.com.au
Based in Adelaide, Goodwax records have been then the used record space for some time now. They have a diverse range of albums from common pop to heavy obscurities and oddities. Their used records are given condition gradings so you know exactly what you're getting. Goodwax has recently started stocking new records and are honing in on an eclectic range of genres and styles, particularly psychedelic, garage and stoner rock.
Oz Music Online – www.ozmusiconline.com.au
Oz Music Online has an incredible range of records that are a little bit left field – like a giant online record op-shop. Stocking everything from 60's Australian psychedelia and early synth experiments, to dub and afrobeat, Definitely one of the best local ways to source all your second hand oddities.
The Sound of Vinyl – www.thesoundofvinyl.com.au
A recent contender to the scene, The Sound of Vinyl has made its mark by heavily stocking coloured, limited edition vinyl of contemporary classics, perfect for mega-fans looking for the most intimate vinyl experience.
"These are the guys who put in all their time and effort into cultivating Australia's thriving record scene"
Where to buy vinyl records IN STORE
While it's super convenient to get all your records from online stores, it's also really important to support local record stores at any possible chance. These are the guys who put in all their time and effort into cultivating Australia's thriving record scene, and they deserve all the help they can get. Without any further ado, here's our picks for some of the best record shops across the country.
Where to buy vinyl records in Sydney
Red Eye Records – Map
Established in 1981, Red Eye Records is one of the oldest vinyl destinations in Australia – in fact, many people will probably claim it's the best in the country. This iconic store has one of the largest arrays of LPs in the nation, as well as a huge stock of books, posters and magazines, with a penchant for unique Australian records and music memorabilia.
Birdland Records – Map
Named after the iconic bebop club that hosted the likes of Charlie Parker, Miles Davis and Dizzy Gillespie in the 1950s, Birdland Records is Sydney's best hub for all your jazz needs. Tucked away into a Dymocks bookstore on George Street, Birdland specialises in mail orders, and also operates as an incredibly updated online store for jazz purists.
The Record Store – Map
Located in Darlinghurst, The Record Store is one of the most dedicated vinyl hubs you'll come across in Sydney. Shunning the idea of an online store (their website urges you to 'get your ass out the door, come have a dig and discover something new') The Record Store has one of the finest selections of electronic and dance music in the country, catering for all the beat makers and DJ's out there. If you're lucky, you'll even be able to catch a live disco or house set in store while you shop or wait to get your records cleaned.
Mojo Record Bar – Map
We're not sure which genius decided to come up with the idea of combining a record store with a licensed bar, but we really can't complain. It's one of the most unique ways buy vinyl records in Australia! Since 2012, Mojo Record Bar has been serving Sydney with the best classic releases, rock LPs, and cold beverages, earning itself a cult following amongst crate diggers – even the legendary vinyl sampling producer DJ Shadow has been known to stop in and hunt for drum breaks.
Where to buy vinyl records in Melbourne
Northside Records – Map
Honestly, if you're looking to snag a bargain on records in Melbourne, spend a day venturing through the city's inner north – the streets of Fitzroy and Collingwood are practically infested with incredible record shops. A staple in the Melbourne scene for 15 years, Northside Records is famous for its dedicated owner Dave, who keeps the store stocked with the best in all things groovy – funk, soul, hip hop and afrobeat are heavily represented here. Keep your eyes peeled for in store performances from the likes of George Clinton, Remi, Hiatus Kaiyote and The Bamboos as well.
Licorice Pie – Map
Based in the trendy south east suburb of Prahran, Licorice Pie is one for the hardcore vinyl enthusiasts. While the store does have a large selection of bargain bins and discounted stock, you're more likely to stumble across some of the rarest finds in Melbourne, with sizeable price tags to match. Licorice Pie also operates an internationally acclaimed store on Discogs, which is a perfect way to keep up with the 20,000 titles stocked in store.
Heartland Records – Map
If you're chasing some records on the heavier side, Heartland Records is definitely a no-brainer. Stocking some of the best hard rock, punk and metal releases from yesteryear as well as some of the freshest new releases, Heartland has been at the forefront of Melbourne's metal scene for more than 25 years. It's also located right near the Victoria Markets, so you can chow down on some hot cinnamon donuts while you thumb through your purchases.
Polyester Records – Map
With stores in both Fitzroy and the CBD, Polyester is the Melbourne equivalent to Sydney's Red Eye – an iconic store in its own right, Polyester Records specialises in supporting the finest independent releases from all over the world. They're also highly regarded for their frequent instore performances, as well as a hub to buy your tickets for festivals such as Golden Plains and Meredith.
Where to buy vinyl records in Brisbane 
Rocking Horse Records – Map
Not many record stores can stake the claim that they've won an ARIA Award – Rocking Horse can boast seven. For forty two years, Rocking Horse records has been Brisbane's centre for all things musical, from records, DVDs and books to t-shirts and music magazines. Plus, the whole store is practically decorated wall-to-wall with tour posters – if there's a band coming to Brisbane, you'll know first from Rocking Horse.
Record Exchange – Map
Just around the corner from Rocking Horse Records on Adelaide Street, Record Exchange is literally overflowing with LPs – apparently, it's the biggest record store in the Southern Hemisphere. You could spend an entire week perusing the thousands of records, books, instruments and memorabilia for sale here, but be warned, this store is by all means a black hole – once you enter, you probably won't ever be able to leave.
TYM Guitars – Map
A music lovers dream, TYM Guitars is both a guitar shop and a record store, with both specialisations being well represented in store. As well as stocking thousands of used and new LPs, TYM Guitars offers customers a huge range of vintage and handmade guitars, effects pedals and speaker cabinets, with high profile Australian musicians such as The Smith Street Band and Violent Soho being regular customers.
Jet Black Cat Music – Map
Tucked away into the thriving cultural scene of Brisbane's West End, Jet Black Cat are definitely one of the more indie stores on this list. A hot pick for all your Record Store Day festivities, this little gem stocks all the finest independent contemporary music from around the globe, as well being one of the best places to see your favourite artists in store for performances and record signings.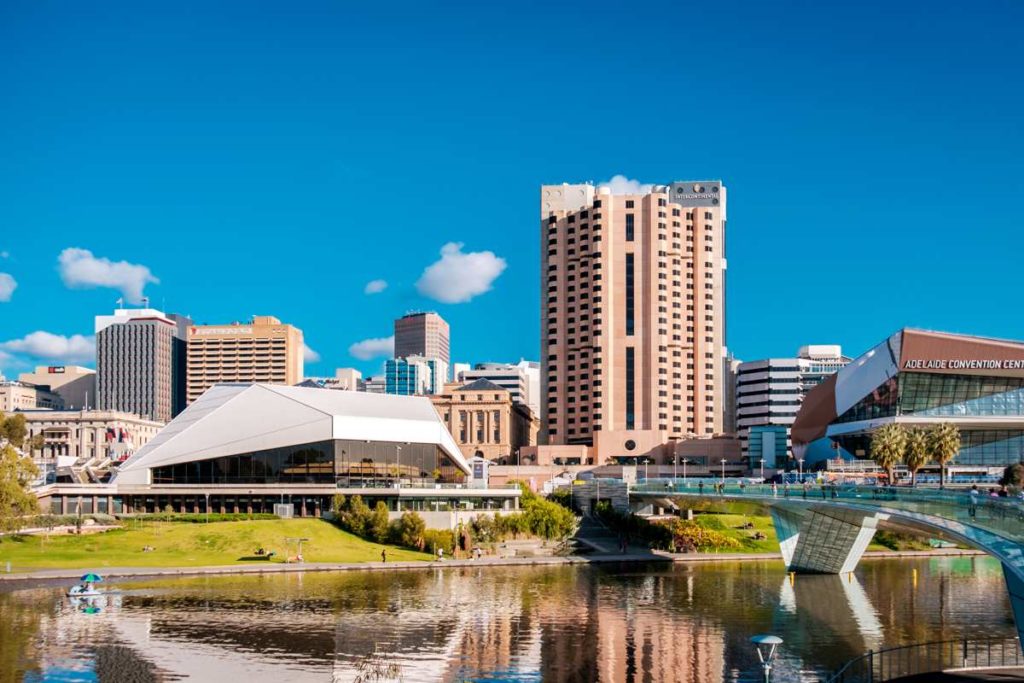 Where to buy vinyl records in Adelaide
Rerun Records – Map
Famous for their friendly staff and wide range of LPs from the 70s, Rerun Records is a must-stop shop for your second hand record needs. They've also recently joined forces with some of Adelaide's big names in photography to present Rerun Photography, offering a huge archive of historic South Australian photos and vintage cameras and photographic equipment.
Clarity Records – Map
Springing up just in time for the huge boom of the vinyl revival in 2010, Clarity Records specialise in heavy metal, punk, hard rock, and just about every spin off genre under the sun, since asserting themselves as a heavyweight in the Adelaide music scene. Clarity also stocks a huge selection of independent releases from Adelaide bands, acting as a perfect hub to discover some of the most underrated music in Australia.
Rocktherapy – Map
Rocktherapy has been around since the 90s and now offer a huge selection of second hand and imported CDs and vinyl. Located on Goodwood Road, they specialise in a range of genres with new stock constantly coming in from their second hand buying and importing of new pressings. The staff here really know their stuff – don't be shy to hit them up with any questions.
Porthole Records – Map
Also located on Port Road, Porthole (get it?) offers a wide variety of genres for a price considerably cheaper than most other stores. Just try not to get lost while discovering the incredible amount of rarities and obscure releases that are crammed amongst all the bargain bin priced vintage house 12" singles and Motown compilations.
Where to buy vinyl records in Perth
Junction Records – Map
Open every day of the year except for Christmas, this Fremantle wax hub has been serving Western Australia with some of the best 60's psychedelia, folk, blues, and soul for almost 15 years. Junction Records also accept trade-ins, and are willing to come to you if you've got a record collection you're looking to pass on for a bit of extra cash.
Rhubarb Records – Map
With pop culture prints of everyone from Thom Yorke to J Dilla adorning the walls, Rhubarb Records is one of the best vinyl destinations south of the river. As well as offering a range of turntable accessories and cleaning supplies, Rhubarb is well known for supplying vinyl junkies with some of the cheapest, best quality LPs and cassettes in the city.
Dada Records – Map
Dada Records is a bit of a mainstay to the Perth music scene, with an emphasis on all the best records of the 20th century as well as reissues and modern obscurities. If you're chasing older EP's and 45" singles in WA, this is your best option.
Noise Pollution Records – Map
With one of the most eclectic combinations of records on the list, Noise Pollution is definitely one for music enthusiasts looking for a slice of every genre. From ABBA to Zappa, Noise Pollution's got it all, and you're even likely to find deluxe LPs from Kendrick Lamar and The Notorious B.I.G tucked somewhere in between. Noise Pollution also offers a whole bunch of discounted tickets to club gigs around Perth, Fremantle and Bunbury, perfect for any live music enthusiast.
Where to buy vinyl records in Canberra 
Landspeed Records – Map
Since 1994, Landspeed has claimed the title of Canberra's finest record shop. With a huge range of genres to choose from, these guys are well known for frequently updating stock as well as selling a huge range of band merchandise.
Dynomite Records – Map
If you're like most politicians in Canberra and have trouble making up your mind, then Dynomite should be high up on your list, with a no questions asked returns policy offered for customers. They also stock a quality range of second hand LPs and singles, as well as listening station to try before you buy – go figure.
Thankfully, with a thriving record store scene and an emerging online presence, finding vinyl records in Australia is relatively easy. We hope this guide helps you when your next wondering where to buy vinyl records and that you find the music you love! If you're in need of a new record player to spin all this amazing wax, be sure to check out our range.