The fast pace of the modern world is both a blessing and a curse for music lovers: even though there's so much good music out there, it's often hard knowing where to start. To help you out, here's a list of some of the hottest upcoming releases to warm up your turntable this winter. Happy listening!
Pusha-T – Daytona
Recently making headlines for his vicious diss track against rap superstar Drake, Pusha-T is undisputedly one of hip-hop's finest lyrical heavyweights – like fine wine, he only keeps getting better with age. Daytona, his third LP under his own name, showcases Pusha's pedigree over seven sample heavy beats produced by Kanye West, combining vintage soul chops and booming bass with Pusha's witty lyrical barbs in a way that totally redefines the phrase quality over quantity. At only 23 minutes long, it's almost short enough to be an EP, but many critics are already hailing it this year's best rap album – go see for yourself.
Father John Misty – God's Favourite Customer
Father John Misty is one of indie-rock's most controversial characters, but damn does he have a knack for song writing. Coming hot off the heels of the release of last year's quirky concept-laden Pure Comedy, God's Favourite Customer offers a collection of digestible, emotive folk songs, with the album's lush production being largely handled by Misty himself. If you're a bit of a pessimist who likes to laugh as the world falls to pieces around you, this one's for you.
Rolling Coastal Blackouts Fever – Hope Downs
2018 is shaping up to be a big year for Melbourne-based quintet Rolling Coastal Blackouts Fever, with their jangly indie-rock stylings proving to a hit with critics and landing them festival spots at the likes of Coachella and Primavera Sound abroad. Hope Downs, the band's debut LP, looks set to follow up on last year's French Press EP and continue their run as one of Australia's hottest up-and-comers.
Nine Inch Nails – Bad Witch
Promising to be the industrial rock monolith's first full length album since 2013's Hesitation Marks, not much has yet been revealed about Nine Inch Nails' upcoming LP Bad Witch. If their previous two EP's are anything to go by, however, you can expect to hear everything you'd want from Trent Reznor and co. – sludgy guitars, sheer synthesizers, pounding drums, and gloriously macabre lyrics. Bring it on.
Kamasi Washington – Heaven and Earth
Kamasi Washington is on a mission to make jazz great again. After wowing the world with last year's stellar EP Harmony of Difference, Washington's full length follow up Heaven and Earth looks to expand on themes of spirituality, purpose and belonging, tucked up neatly into some of the best saxophone skills heard in years. It's jazz, but not the kind your weird uncle digs – get amongst it.
Florence and the Machine – High as Hope
One of contemporary music's finest voices is back to conquer the world. Preceded by the huge lead single 'Sky Full of Song,' Florence and the Machine's fourth LP High as Hope looks set to cement their legacy for churning out anthemic, universally acclaimed indie rock – I don't think it'd be possible for anyone to hate this band.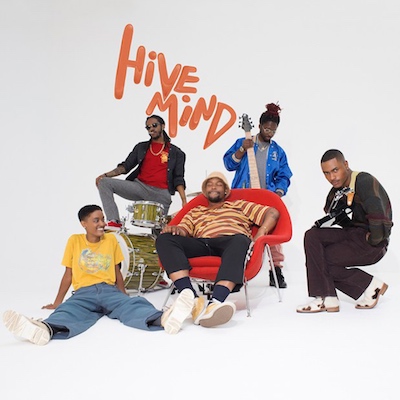 The Internet – Hive Mind
Young Californian unit The Internet are part of a new wave of artists redefining funk for the 21st century, and Hive Mind only promises to keep the groove bouncing. Spearheaded by the distinctive sung-rap vocals of frontwoman Syd and the production prowess of 20-year-old wunderkind Steve Lacy, recent single 'Roll (Burbank Funk)' offers a sultry, soulful taste of what's to come from Hive Mind, which is set to drop later in July. We can't wait.
Need a new record player or a set of speakers to listen to the above? Check out our full range of products and get your vinyl set up sorted!